Favorite Album: Masayoshi Fujita & Jan Jelinek—Schaum (Faitiche)
Here is a fantastic example of tactile instrumentation colliding with the world of electronic processing. Fujita & Jelinek blew me away back in 2010 with 'Bird, Lake, Objects' and at the time I just assumed it was a one-off and, well, that's that. Luckily it wasn't and it seems they have surpassed that record with this one and its hinted tropical leanings. Also, I love that digital version of albums on Fatiche include audio liner notes. Pretty cool touch on already great works of art.
Other albums I enjoyed thoroughly: Deathspell Omega 'The Synarchy Of Molten Bones' / Monadh 'Muara' / Billy Gomberg 'Slight At That Contact' / Ka 'Honor Of The Samurai' / Zach Cooper 'The Sentence' / Ánde Somby 'Yoiking with the Winged Ones' / Radian 'On Dark Silent Off' / Roly Porter 'Third Law' / Conan 'Revengeance'
Favorite Tape: Fousek/Hansen/Tellier-Craig—No Sound Without a Misunderstanding (Spring Break Tapes)
This killer tape from the Fousek/Hansen/Tellier-Craig trio on Spring Break Tapes nailed every part of computer and synthesizer music that I love. Equal parts percussive and droning in a way that compliments instead of criticizes. Hopefully there is more to come from these guys.
Other tapes I enjoyed thoroughly: Adam Basanta 'A Room Listening To Itself' / Olli Aarni 'Muovia' / Chris Herbert 'Katushki' / Sumac 'What One Becomes' / Neurosis 'Fires Within Fires' / Jake Meginsky ' Seven Psychotropic Sinewave Palindromes' / Head Dress 'Bodies Of Water' / Naps 'Checking Out Early' / Cody Yantis 'Cadence Annals'
Thing I Listened To The Most That Wasn't Released In 2015: Motion—Every Action (12k)
Spent a good deal of time researching synthesizers this year and, as an educational exercise, developed a fascination while doing so to try and create 'computer music' on something other than a computer. Chris Coode's Motion work does this very well and served as great inspiration.
Favorite Beer I Discovered in 2016: Tired Hands(US)/Omnipollo(SWE) – Lychee Milkshake IPA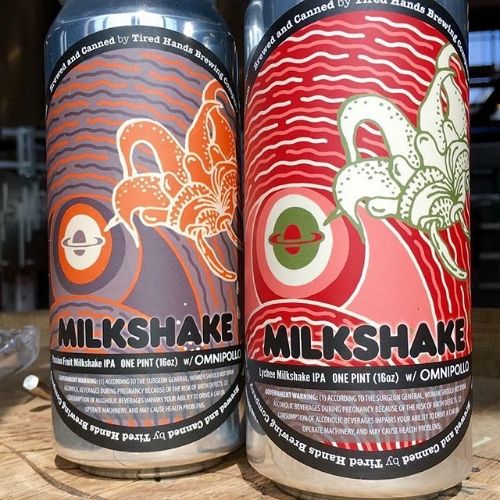 Brewed with oats, lactose sugar, and wheat flour. Conditioned atop Madagascar vanilla beans and a copious amount of luscious lychee purée. Hopped intensely with Mosaic and Citra. Dreamt up with the sweethearts at Omnipollo. If I can ever figure out how to make a record sound the way this tastes, it'll be the best thing I ever do.